Hengwang Group Makes First Factory Live Show On FB
Hengwang Group Makes First Factory Live Show On FB
On April 21, Hengwang Group make first facebook live show for our factory introduction of all machines we manufacture. On this special period, customers all over the world can not visit our factory to see the machine operation. So we make this live show to let customers know our machine earily.
To see is to believe, that is the saying. While boradcasting, we showed the people our factory, which covers an area of 60,000 square kilometers. And some workshops, like packing workshop, drilling rig workshop, construction machine workshop and also our showroom. On the showroom, we showed some finished machines to the audience, like water well drilling rig, pile driver, concrete mixer truck, backhoe, excavator, road roller, etc.
After today's live video , we got good feedback, they were very interested in it. Each week, we will have regular live show for one machine. Welcome to visit our following facebook website to see what you are intersted in , if you have other special requirement ,please leave message to our sevice , we will make special machine live show for you .
During 2020.4.18 to 2020.5.18, we have six machines for big promotion, it's HW160 hydraulic drilling rig, HWL330R solar pile driver, HQZ220L pneumatic drilling rig, 0.8t mini excavator, 2.0cbm self-loading concrete mixer truck, and 600kg road roller. We later would have specialized live show for these six machines, if you are interested in, pls pay attention to us.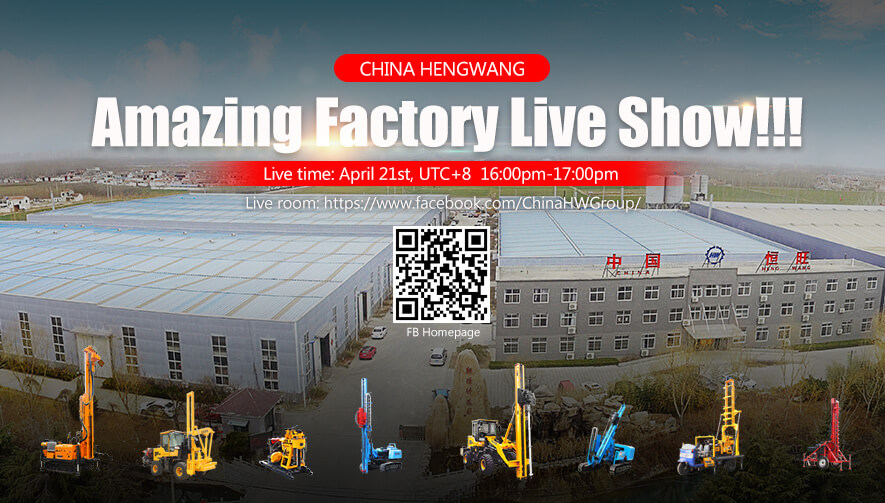 Pay attento to Facebook Website:
https://www.facebook.com/ChinaHWGroup/
https://www.facebook.com/HWGroupChina/