Big Sale!!! SP680 DTH Hammer
Big Sale!!! SP680 DTH Hammer
Model: SP680
Working Pressure: 1.2-2.7Mpa
Air Consumption: 16/23m3/min

Watch Product Video
PRODUCT DESCRIPTION
TECHNICAL PARAMETERS
Hengwang Hot Drilling Tools (DTH Hammer, Drill Bit, Drill Rod) with Big Sale!!!
DTH hammers are used for blast hole drilling and blasting, mainly applied in Mining, Marble quarry or well drilling and other construction projects.
New products designed based on mining condition in china, improving by advanced technology from global market.

Superior materials, advanced process,guaranteed quality.

Faster drillinq rate.

Hardness can be enhaced to expand the lifespan of hammer, and lower the cost. Huge impulse with low consumption of electricity.

The modern theory is adopted in the structural design, which makes the stress.

wave duration longer, the stress amplitudeis lower, and the piston life is long.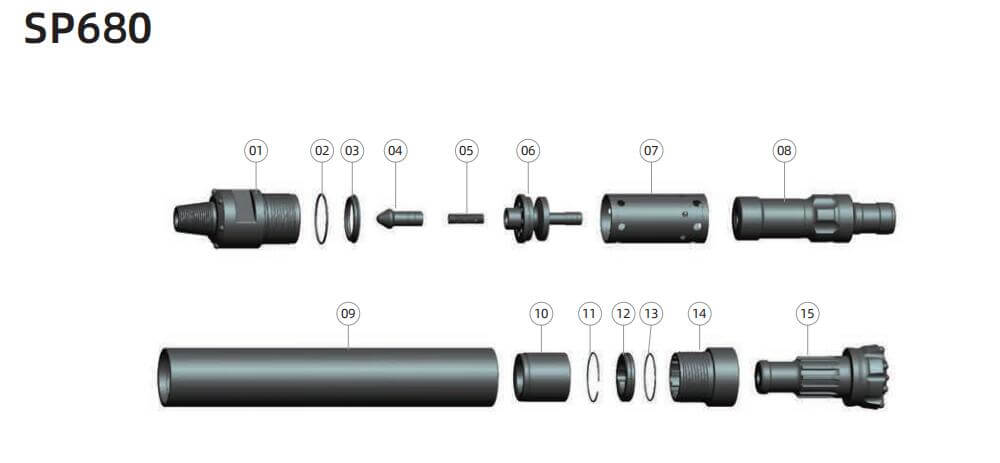 | | | | | | | | |
| --- | --- | --- | --- | --- | --- | --- | --- |
| Ref. | Parts | Weight | Part No | Ref. | Parts | Weight | Part No |
| 01 | Top Sub | 21.5 Kg | 01-SP680-01 | 09 | Piston Case | 33 Kg | 01-SP680-09 |
| 02 | O"Ring | 0.01 Kg | 01-SP680-02 | 10 | Guided Sleeve | 5.5 Kg | 01-SP680-10 |
| 03 | Disc Spring | 0.34 Kg | 01-SP680-03 | 11 | Circlip | 0.02 Kg | 01-SP680-11 |
| 04 | Check Valve | 0.56 Kg | 01-SP680-04 | 12 | Retainer Ring | 1 Kg | 01-SP680-12 |
| 05 | Spring | 0.05 Kg | 01-SP680-05 | 13 | "O"Ring | 0.01 Kg | 01-SP680-13 |
| 06 | Valve Seat | 4.3 Kg | 01-SP680-06 | 14 | Drive Chuck | 7 Kg | 01-SP680-14 |
| 07 | Inner Cylinder | 4.2 Kg | 01-SP680-07 | 15 | Drill Bit | | 01-SP680-15 |
| 08 | Piston | 23 Kg | 01-SP680-08 | | | | |
Length(Less bit)

Weight

Outer Diameter

Connection Thread

Bit Shank

Hole Range

1131mm

100.5Kg

C148mm

API3 1/2"REG

SP680

C158-C 203mm

Work Pressure

Recommended Rotation Speed

Air Consumption







1.8Mpa

2.4Mpa

1.2-2.7 Mpa

30-60 r/min

16m3/min

23m3/min
Feedback form contact with us
Related Product